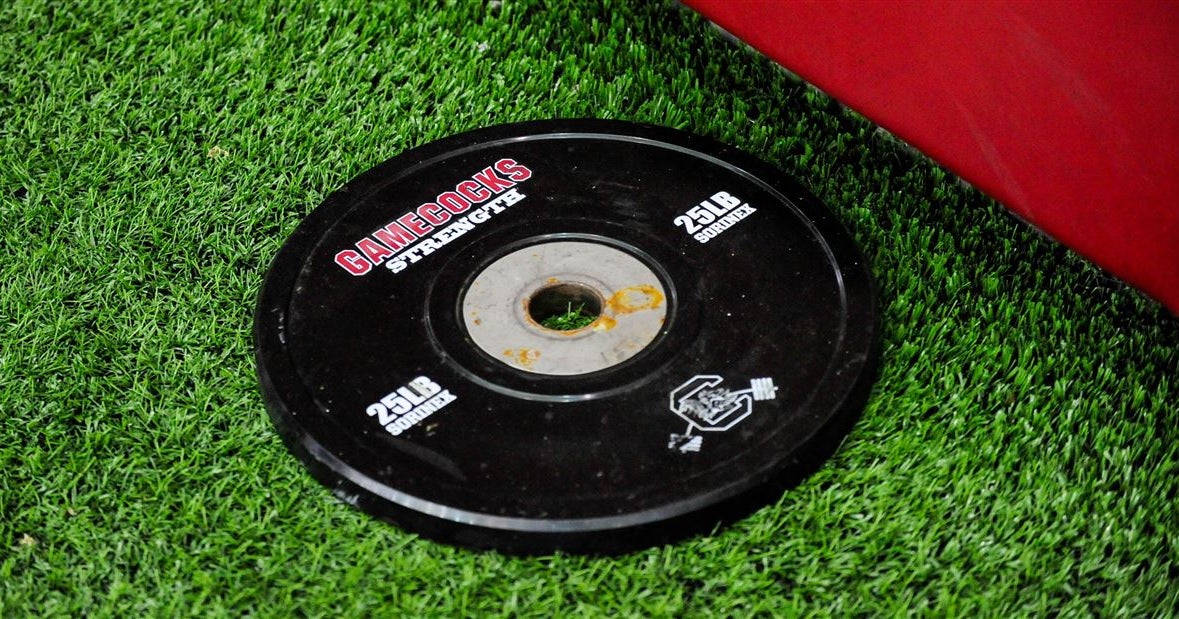 The South Carolina Gamecocks 2021 football roster has been updated just before the start to SEC Media Days for head coach Shane Beamer and player reps Kingsley Enagbare and Nick Muse on Monday afternoon.
Comparing the spring roster to the season roster, player weights have noticeably changed. A total of 34 scholarship players have either gained or lost five pounds when comparing the old and new rosters.
Notable weight gains are EDGE Jordan Strachan going from 220 to 246 pounds and defensive lineman Tonka Hemingway going from 270 to 297 pounds. The standout weight loss is offensive lineman Tyshawn Wannamaker going from 335 to 314 pounds.
The following lists are separated by weight gained, weight lost and the weights of newcomers to the program. Players listed below are only those on scholarship and they are divided up by offense/defense and position group.
AT LEAST FIVE POUNDS GAINED
QB Luke Doty – 210 (previously 204)
QB Colten Gauthier – 217 (210)
RB ZaQuandre White – 215 (210)
RB Rashad Amos – 224 (215)
WR Sam Reynolds – 185 (180)
WR Chad Terrell – 222 (212)
WR Trey Adkins – 182 (175)
OL Mark Fox – 310 (305)
EDGE Jordan Strachan – 246 (previously 220)
EDGE Gilber Edmond – 250 (230)
EDGE Aaron Sterling – 245 (240)
EDGE Kingsley Enagbare – 265 (260)
EDGE Tyreek Johnson – 270 (255)
DL Tonka Hemingway – 297 (270)
DL Alex Huntley – 305 (300)
DL M.J. Webb – 305 (310)
LB Debo Williams – 235 (230)
LB Brad Johnson – 240 (235)
LB Mohamed Kaba – 235 (222)
LB Sherrod Greene – 230 (220)
DB Jaylin Dickerson – 197 (190)
DB Jaylan Foster – 195 (190)
DB David Spaulding – 195 (190)
AT LEAST FIVE POUNDS LOST
QB Jason Brown – 229 (235)
RB Kevin Harris – 220 (225)
WR Josh Vann – 190 (195)
OL Tyshawn Wannamaker – 314 (335)
OL Hank Manos – 300 (305)
OL Eric Douglas – 308 (315)
OL Trai Jones – 305 (310)
DL Rick Sandidge – 302 (310)
DL Devontae Davis – 298 (305)
LB Damani Staley – 240 (246)
P Kai Kroeger – 195 (200)
SUMMER ENROLLEES
RB Juju McDowell – 5-9, 177 pounds
WR O'Mega Blake – 6-3, 182 pounds
OL JonDarius Morgan – 6-3, 332 pounds
DL TJ Sanders – 6-5, 300 pounds
LB Kolbe Fields – 6-1, 225 pounds
LB Bam Martin-Scott (JUCO) – 6-3, 220 pounds
DB Isaiah Norris (JUCO) – 6-0, 170 pounds
DB La'Dareyen Craig – 6-1, 172 pounds
DB Tyrese Ross (transfer) – 6-0, 197 pounds
DB Carlins Platel (transfer) – 6-1, 205 pounds