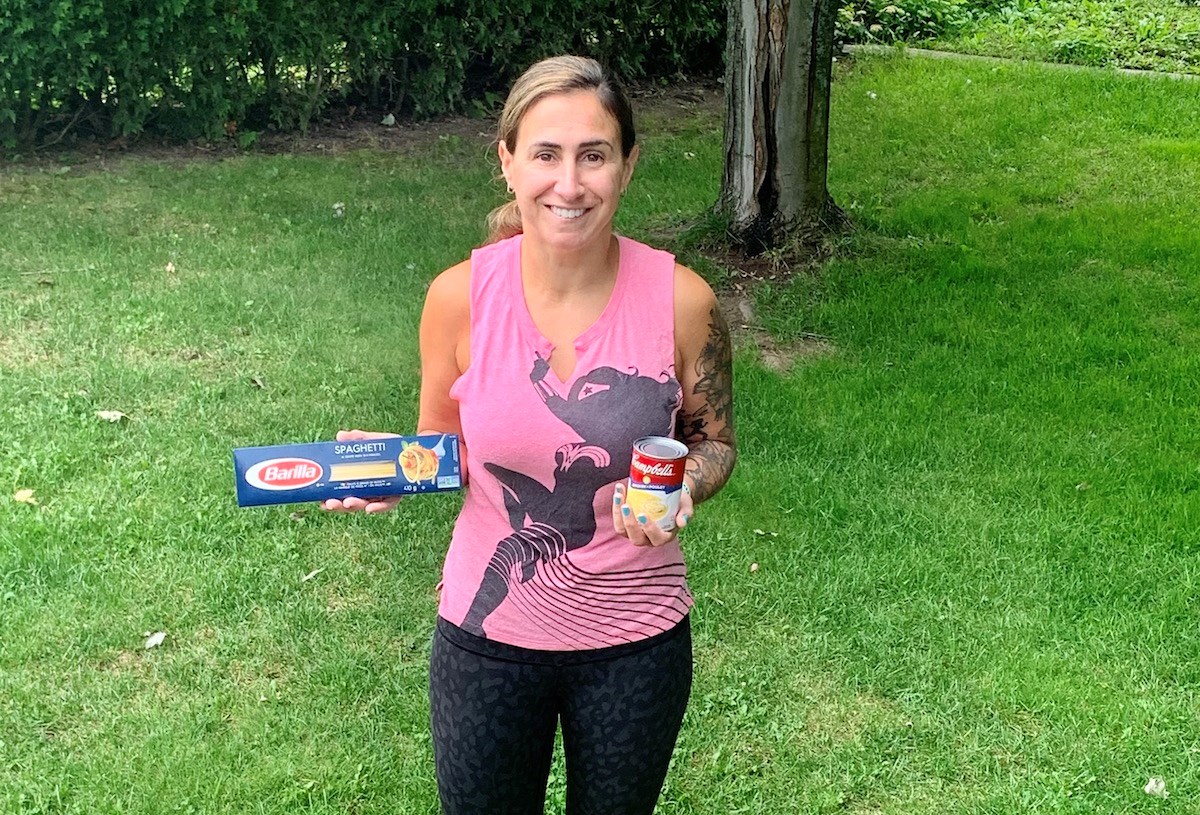 As word spreads about the current food shortage situation at St. Vincent Place, local pharmacy technician and fitness coach Stefanie Maione wants to do her part to help out.  
Maione has decided to host a free group workout class at Clergue Park this Wednesday, Sept. 15 at 7:30 p.m. called Fitness 4 Food, and is asking that participants bring donations of canned goods for St. Vincent Place. 
"My boyfriend and I often go for walks downtown and on Saturdays we always see a long line up at St. Vincent's. When I learned that the shelves are empty I figured I could combine my passion for fitness with trying to help the community and collect cans," she said.
Maione said it broke her heart to read the recent story on SooToday about the empty shelves at the shelter. 
"It's heartbreaking because we take for granted that we can just go into our fridge or our cabinet and grab something to eat whenever we want and we never go to sleep on an empty belly. But so many people nowadays have been hurt financially and can't afford (enough food). These food banks are run based on donations and volunteers and without the help from our community they could become scarce," she said. 
Maione, who has been a fitness coach for three years, currently teaches nine weekly classes. Wednesday's workout will be a total body, low impact workout, geared towards adults. 
"We will still be following Algoma Public Health guidelines and social distancing," she said. 
"I know it's a small gesture right now, but I'm hoping I'm able to inspire something small to become something bigger," Maione said. "If a lot of people attend and bring cans, there could be a snowball effect and hopefully we'll be able to continue it on a weekly basis. I hope my small contribution and the community's contribution is going to equal a big contribution to St. Vincent's."
If you are interested in attending Fitness 4 Food, make sure to bring a yoga mat, water, and of course, canned goods and donations. 
Corn Maze and Pumpkin Fest
Sept. 18-19
It's officially pumpkin season, and Thomson Farms is celebrating by hosting a corn maze and pumpkin fest every Saturday and Sunday until the end of October. You and your family can enjoy a variety of fall activities, including tractor wagon rides, corn cannons, bonfires, pumpkin picking, pumpkin spice coffee, pumpkin muffins, pies, tarts, and of course wines and ciders. Attendees are also welcome to pick strawberries. Admission to the farm is free with this event, with an extra fee for activities. 
25th annual Bushplane Days Festival
Sept. 18-19
Bushplane Days are back this year, with special pricing in effect in honour of the 25th anniversary of the festival. The family-friendly event will be held this Saturday and Sunday from 9 a.m. to 5 p.m. at the Canadian Bushplane Heritage Centre, featuring games including nine-hole mini golf, ball toss, chopper bean bag toss, and appearances by Princesses Are Us. There will also be Algoma Model Train Society train rides. Cost for the event is $5 per family of two and $10 per family of four to six. All games and activities are included with admission, and snacks will be available at concession. Masks and social distancing will be required. 
Entomica Insectarium
Sept. 18
Bug enthusiasts are invited to Centre Court in Station Mall this Saturday from 11 a.m. to 4 p.m. to check out the Entomica Insectarium. Various insects will be on display in their habitats, and can even be held. This event is free of charge. 
Fall's Bounty – Watercolour Paint Night on Zoom
Sept. 20
Learn how to paint a basket full of colourful pumpkins in honour of the upcoming fall season with this virtual painting lesson taught by Vera from Artist's Palette Durham Region. The class will be held on Zoom, and even if you can't make it, you can paint using the recording of the lesson after the class is over. You will need watercolour paper or media art paper, watercolour paints, white acrylic paint, two or three medium brushes, a small brush, a water cup and paper towel.
Have an event coming up? Add it to our Community Calendar here.
Did we miss something? E-mail us at news@sootoday.com