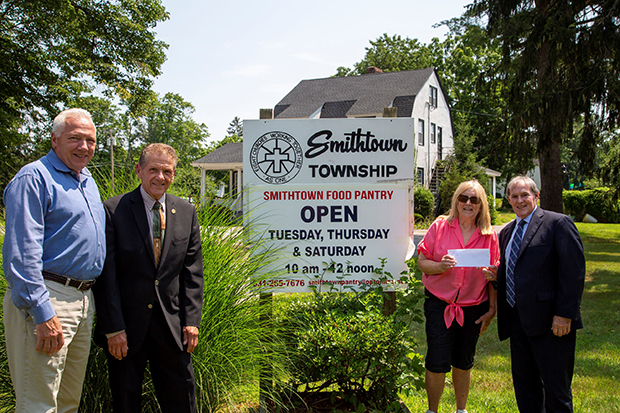 Town of Smithtown employees and residents raised $1,600 for their local food pantry.
A healthy battle between the Towns of Riverhead and Smithtown resulted in a win for the Smithtown Food Pantry.
Smithtown Town employees and members of the public used an app called Kilter in a 30 day fitness challenge against the Town of Riverhead. The proceeds from the event went to a cause of each Town's choosing. In all, Smithtown raised $1,600 for the food pantry.
The Battle of the Towns fundraiser was organized by the Recreation Department back in March.
Participants logged daily fitness routines from March 21 through April 19 on the Kilter Fitness App. Healthy activities like running, spinning, swimming, meditating, and even social activities including volunteering and advocacy were logged virtually each day. Points are earned every day for both personal and team scores. The Kilter Fitness App can be used for fundraising events like this or for personal health goals.
Smithtown Town Supervisor Ed Wehrheim was joined by Town Clerk Vincent Puleo and Councilman Tom Lohmann to hand deliver a check to Pat Westlake at the Smithtown Food Pantry.
"I want to thank the Recreation Department, under the leadership of Tom McCaffery, for their unique team building and health conscious idea which not only got us in shape for the Summer, but did some genuine good in the community," Wehrheim said.
During the pandemic, the Smithtown Food Pantry was able to deliver hundreds of grocery store gift cards on a regular basis to local families in need, giving them the independence of food shopping on their own. For more information, visit SmithtownFoodPantry.org.
"On a side note, I'd also like to commend Pat Westlake for her saintly efforts during the pandemic," Wehrheim added. "Despite enormous heartbreak and the challenges which the pandemic caused for the food pantry, she made sure that families in need did not go without."