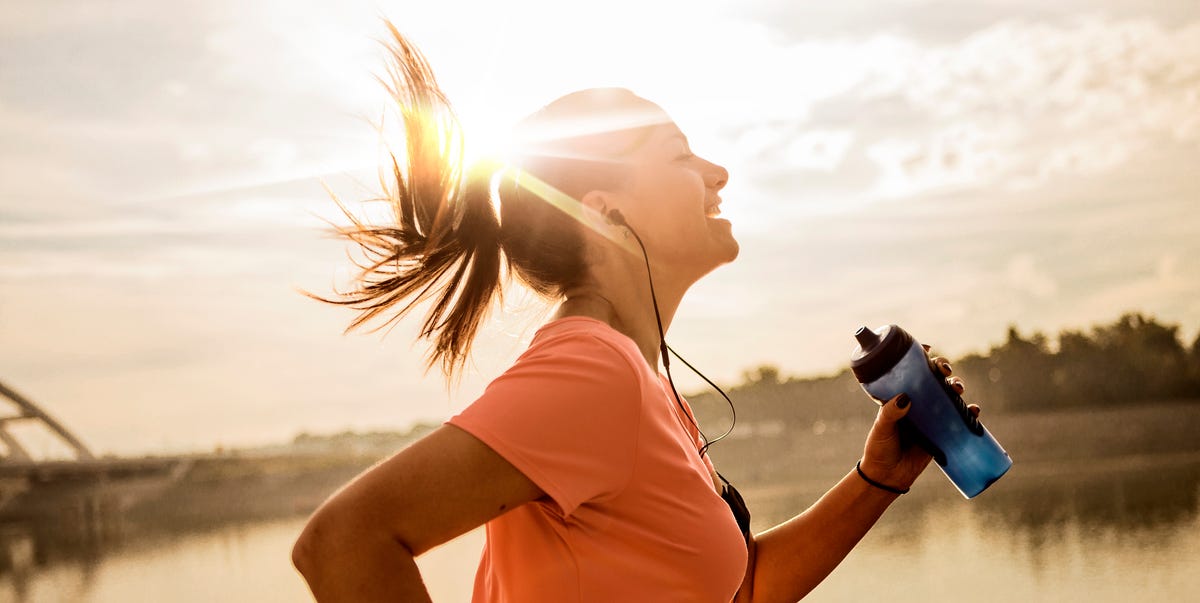 Finding the motivation to start working out can feel impossible. But there's a surprisingly simple solution: music. The best workout songs don't just get you in the right headspace or drown out the noise of the gym; they can actively improve your performance.
In a study released last year, Italian researchers found that when people listened to high-tempo pop music during exercise, they believed they were putting in less effort for workouts that were actually more intense than those of a control group. Energetic songs were especially helpful during endurance exercise.
This finding isn't a one-off, either. In recent years, other studies have shown evidence that music optimizes movements, significantly increases endurance, and keeps us happier during workouts. It might even stave off age-related cognitive decline when paired with exercise, too.
What kinds of songs are best during a workout?
High-tempo music appears to be the most effective for exercise, per the Italian study. On top of inspiring you to work harder without realizing it, says Dilan Gomih, a certified personal trainer and senior director of digital strategy and talent at Barry's, fast-paced music can also boost your mood. "This translates into getting your heart rate up and better performance," Gomih explains.
Tempo is measured in beats per minute, or BPM. Gomih recommends focusing most on music at 120 to 140 BPM. Sareena Rama, a certified personal trainer and group fitness instructor in Orange County, CA, creates playlists that fluctuate from 100 to 180 BPM, depending on how intensely she's planning to work out. A song's speed can also help you keep time, Gomih says; for example, runners can sync their pace rate to a certain BPM.
Beyond tempo, lyrics also serve as a source of inspiration. "I recommend listening to music that promotes positive self-talk," Rama says. Seek out songs that make you feel more confident, empowered, sexy, or happy—they'll keep you moving longer, she explains.
Meanwhile Gomih likes to switch between pop songs and dancier ones with few lyrics. "Songs with clear beat drops are important because the music inherently makes the listener want to push harder for those 30 to 45 seconds," she explains, "then provides active recoveries in-between."
Ready to get moving? Here are the 50 best workout songs of all time:
1
"Work B***h" by Britney Spears
If you can't afford a personal trainer, let Britney fill the void. Living fancy in a big mansion does sound pretty good—let's get to work!
Listen Now
2
"Where Have You Been" by Rihanna
"I don't think I could work out without Rihanna," Gomih says. This banger fits perfectly between the pop and EDM camps, offering huge, cathartic drops that'll push you to run, cycle, or row for your life.
Listen Now
3
"Move, Shake, Drop" by DJ Laz
One of Rama's go-to workout songs, "Move, Shake, Drop" runs the risk of making you jump into a full dance routine in the middle of the gym.
Listen Now
4
"Don't Start Now" by Dua Lipa
We'll let you in on a secret: Breakup anthems make incredible workout songs. This earworm does double duty, helping you bust out a few more squats while simultaneously getting over your ex.
Listen Now
5
"Body" by Megan Thee Stallion
Is there any more motivating refrain than "Body-ody-ody-ody-ody-ody-ody-ody-ody-ody-ody-ody-ody-ody-ody"? Nope!
Listen Now
6
"Motivation" by Normani
Normani's throwback bop is practically made to be listened to deep into a workout—it's all in the name!
Listen Now
7
"Groove Is in the Heart" by Deee-Lite
Turn the weight room into a dance floor with the magic of Dee-Lite's genre-hopping hit. If nothing else, it'll plaster a smile on your face—quite the feat in the middle of a workout, no?
Listen Now
8
"Be Your Girl (Kaytranada Edition)" by Teedra Moses
One of the first Kaytranada tracks to make waves on the internet, this sultry remix is powered by a supercharged bassline that doubles as a rep timer.
Listen Now
9
"Mi Gente" by J Balvin and Willy William
Another of Rama's favorite workout songs, is best listened to loud (and on repeat). Listening to that beat, there's no way not to move—you might as well put that energy into exercise.
Listen Now
10
"Survivor" by Destiny's Child
Leave it to Beyoncé, Kelly Rowland, and Michelle Williams to get us through our toughest workouts. They're right: In the gym, we're all survivors.
Listen Now
11
"Magnets – A-Trak Remix" by Disclosure feat. Lorde
Didn't think you'd see Lorde on this list, did you? Gomih says she searches for remixes that "make any song workout-friendly," and A-Trak does just that with this made-for-cardio jam.
Listen Now
12
"MSMSMSM" by SOPHIE
If you're facing a particularly tough feat at the gym, we suggest gearing up with this symphony of electronic clangs. Suddenly, you'll be ready to take on the world.
Listen Now
13
"I Like It" by Cardi B feat. Bad Bunny & J Balvin
Cardi B's finest earworm shouts out exercise directly: "I run this s**t like cardio!" she boasts. Listening to "I Like It," you can, too.
Listen Now
14
"You Make Me Feel (Mighty Real)" by Sylvester
Disco tracks pair well with the gym, considering they're long, repetitive, and super-catchy. You'll get nearly seven minutes of exercise listening to this sparkly Sylvester cut. Not too shabby!
Listen Now
15
"Raingurl" by Yaeji
Good mantras get you through the toughest exercise: "I am powerful." "I can do this." And best of all, "Make it rain, girl, make it rain."
Listen Now
16
"On the Floor" by Jennifer Lopez feat. Pitbull
Jennifer Lopez hasn't aged a day in, like, decades. Her secret? We can only imagine it's getting into beast mode while jamming to "On the Floor."
Listen Now
17
"We Got the Beat" by the Go-Go's
One of the ultimate cool-girl songs, this Go-Go's track is guaranteed to make you feel good about yourself, like Rama says workout music should. Plus, it's got a much higher BPM than you remember.
Listen Now
18
"Lights Up" by Flight Facilities feat. Channel Tres
If you splurged on bass-heavy headphones, do yourself a favor and blast "Lights Up"; you'll reach auditory nirvana while crushing leg day.
Listen Now
19
"Rage" by Rico Nasty
Hype songs are often left to the dudes, but Rico Nasty's take is the best of the bunch—you'll be ready to punch a hole in the wall, not to mention ace your next 10 reps.
Listen Now
20
"Physical" by Olivia Newton-John
Gym-ready songs certainly existed before "Physical," but Olivia Newton-John changed the game with this track. Next time you're working out, make sure you show respect to the classics.
Listen Now
21
"Song 2" by Blur
"Song 2" has plenty of those peaks and valleys Gomih recommends: Go hard when Blur rocks out, then rest when they do. You'll power through in no time!
Listen Now
22
"Tap In" by Saweetie
This song is something of a dare: Are you ready to tap in for your next workout? Don't let Saweetie down!
Listen Now
23
"Work It" by Missy Elliott
Although this song is ostensibly about a hookup, it doubles as an ode to giving your all at the gym: "Work it," Missy says. "I need a glass of water."
Listen Now
24
"Levels" by Avicii
"Levels" is sound in motion. If it's fallen out of your rotation in recent years, go ahead and pop it back into to your exercise playlist. You can thank us later.
Listen Now
25
"Good as Hell" by Lizzo
You may not actually be feeling good as hell, but go ahead: Toss your hair, check your nails, and let Lizzo carry you to the end of your run.
Listen Now
26
"She Works Hard for the Money" by Donna Summer
Live out your dreams of being in an 80s workout montage with this Donna Summer cut, which will make you want to rock leg warmers on your next run.
Listen Now
27
"Fell in Love with a Girl" by the White Stripes
"Seven Nation Army" might be your song of choice, but we love this one for its DIY charm and racing BPM. When you need to eke out a few more reps, this is the audio version of caffeine.
Listen Now
28
"Both of Us" by Jayda G
A good, old-fashioned house track should be all the motivation you need to get through your next set, and this one sounds just like a sunny vacation.
Listen Now
29
"Hannah Montana" by Migos
Is this the best Migos song? No. But it is one of their most repetitive, making it ideal for quick movements like push-ups and squats. Plus there's no way you won't crack a smile listening to this one.
Listen Now
30
"Los Angeles" by X
It's way too easy to get caught in the trap of pop and EDM at the gym, so switch things up with X's punk opus.
Listen Now
31
"Show Me Love" by Robin S
Often imitated but never replicated, "Show Me Love" has a beat that's perfect for walking and running, plus a repetitive structure that works well during long workouts. Show it some love during your next trip.
Listen Now
32
"Nice Guy" by BbyMutha feat. Yung Baby Tate
"Nice Guy" could easily back a movie montage, meaning it's ideal for the gym. Who doesn't want to feel like a star while they're sweating?
Listen Now
33
"I'm Still Standing" by Elton John
Rama recommends blasting this crowd-pleaser—which features surprisingly gym-friendly lyrics—during any workout. We agree.
Listen Now
34
"No More Pain" by 2Pac
A favorite of Dwayne Johnson's, "No More Pain" works its ice-cold magic most effectively in the weight room, where you'll find yourself feeling like a professional weightlifter.
Listen Now
35
"Opal – Four Tet Remix" by Bicep
Four Tet's mind-bending remix of "Opal" must be heard to be believed—you'll want to run faster, reach farther, and breathe deeper than ever before. If it would kill on a dance floor, it probably works at the gym, too.
Listen Now
36
"Puff Daddy" by JPEGMAFIA
Time to bring the energy back up! "Puff Daddy" is two minutes of pure adrenaline. If you use it wisely, you'll finish your workout on quite the high note.
Listen Now
37
"What the Hell" by Avril Lavigne
Rama is known to blast this modern classic during her workouts, and for good reason: It's a perfect reminder that you don't have to answer to anyone, at least when you're at the gym.
Listen Now
38
"Real Gone" by Sheryl Crow
If it's even possible for a song to be chill and hype at the same time, "Real Gone" is the one. It might not send you into the stratosphere, but it'll keep you moving, and that's why we love it.
Listen Now
39
"Bling Bling" by Junglepussy
An anthem for all the girls who do their own thing, "Bling Bling" bristles with self-righteous energy. We could all use a bit of that.
Listen Now
40
"Xcxoplex (with Charli XCX)" by A. G. Cook
What does pure energy sound like? The most correct answer is probably something like this song, which you already know you want to run to.
Listen Now
41
"Hollaback Girl" by Gwen Stefani
Gwen's entering a new era, but we (and Rama) are still obsessed with her L.A.M.B. days—especially the schoolyard anthem "Hollaback Girl."
Listen Now
42
"Still D.R.E." by Dr. Dre feat. Snoop Dogg
Classic hip-hop and weights pair exceedingly well, and this track by Dr. Dre and Martha Stewart's best friend might just be the best of the bunch.
Listen Now
43
"HUMBLE – SKRILLEX REMIX" by Kendrick Lamar
The best listening experience with Kendrick Lamar, by far, is the original album. But if you need a ticket to beast mode, we must recommend this Skrillex remix, which flips "HUMBLE." into the hardest EDM you've ever heard.
Listen Now
44
"Man! I Feel Like a Woman!" by Shania Twain
Shania Twain earned her spot on this list with the first few seconds of this absolute banger: That opening "Let's go girls" is maybe the most powerful lyric ever recorded. Save it for when you're near the end of your rope—you'll come back stronger than ever before.
Listen Now
45
"LUCID" by Rina Sawayama
A slice of hot-pink pop perfection, "LUCID" takes its cues from the chart-toppers of yore. It's more than worth a stream on your next grueling run.
Listen Now
46
"Lemon – Edit" by N.E.R.D. feat. Rihanna
Sorry not sorry, Rihanna's verse is by far the best part of "Lemon," so you might as well add just that section to your playlist. We especially like this tempo for repetitive exercises.
Listen Now
47
"Mirror – Maliboux Remix" by Sigrid
It's easy to get down on yourself in the gym, but this remixed self-love anthem will both energize you and keep you feeling confident. "I love who I see looking at me in the mirror," Sigrid sings. "Nothing compares to the feeling right there."
Listen Now
48
"I Got You (I Feel Good)" by James Brown
At first listen, this doesn't sound like the rest of the songs here. But, Rama says, it's worth a listen because of its infectiously great energy—a must when you're feeling down.
Listen Now
49
"Twerkulator" by City Girls
Even if you're not actually twerkulating to this track, it's just the positive energy you need in the gym. Like Rama says, anything that makes you feel like a million bucks is worth a spin, and this track has that energy in spades.
Listen Now
50
"The Final Countdown" by Europe
How else could we end this list? Although it was never actually used in a Rocky movie, it might as well have been; it's perfect for cardio, strength training, and HIIT, and most importantly, it's fun.
Listen Now
This content is created and maintained by a third party, and imported onto this page to help users provide their email addresses. You may be able to find more information about this and similar content at piano.io