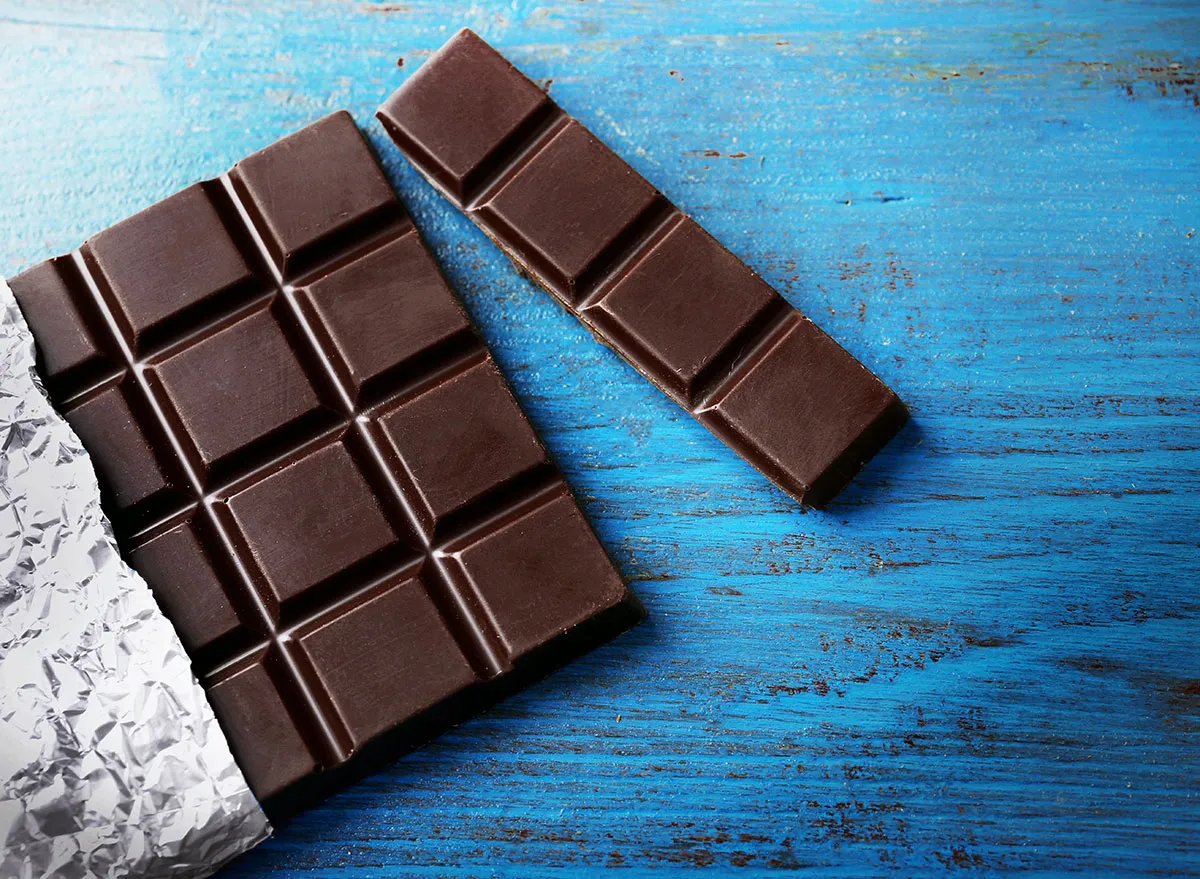 With Halloween and the parties just around the corner, the "sweet season" is ready!
Between trick or treating, family reunions, and holiday parties, it's all too easy load sugar and empty calories. Unfortunately, completely avoiding sugar is not a realistic solution for many of us, even for me, a registered dietitian! Instead, I look for better treats for you and portion-controlled snacks to satisfy my sweet tooth so they don't overwhelm me.
These are my best options:
Individually wrapped Kind ministers they are my favorite bar when I need a snack between meals. With 100 calories or less per bar and made with whole ingredients like nuts and dried fruit, are also perfect for tricks or tricks. They have delicious flavors such as dark chocolate, dark chocolate with peanut butter, dark chocolate cherry cashew and more. My favorite Almond caramel and sea salt, has only 90 calories, 4 grams of filling fiber and 3 grams of protein, but only 3 grams of sugar.
Consider storing Kind Minis variety packages for Halloween this year.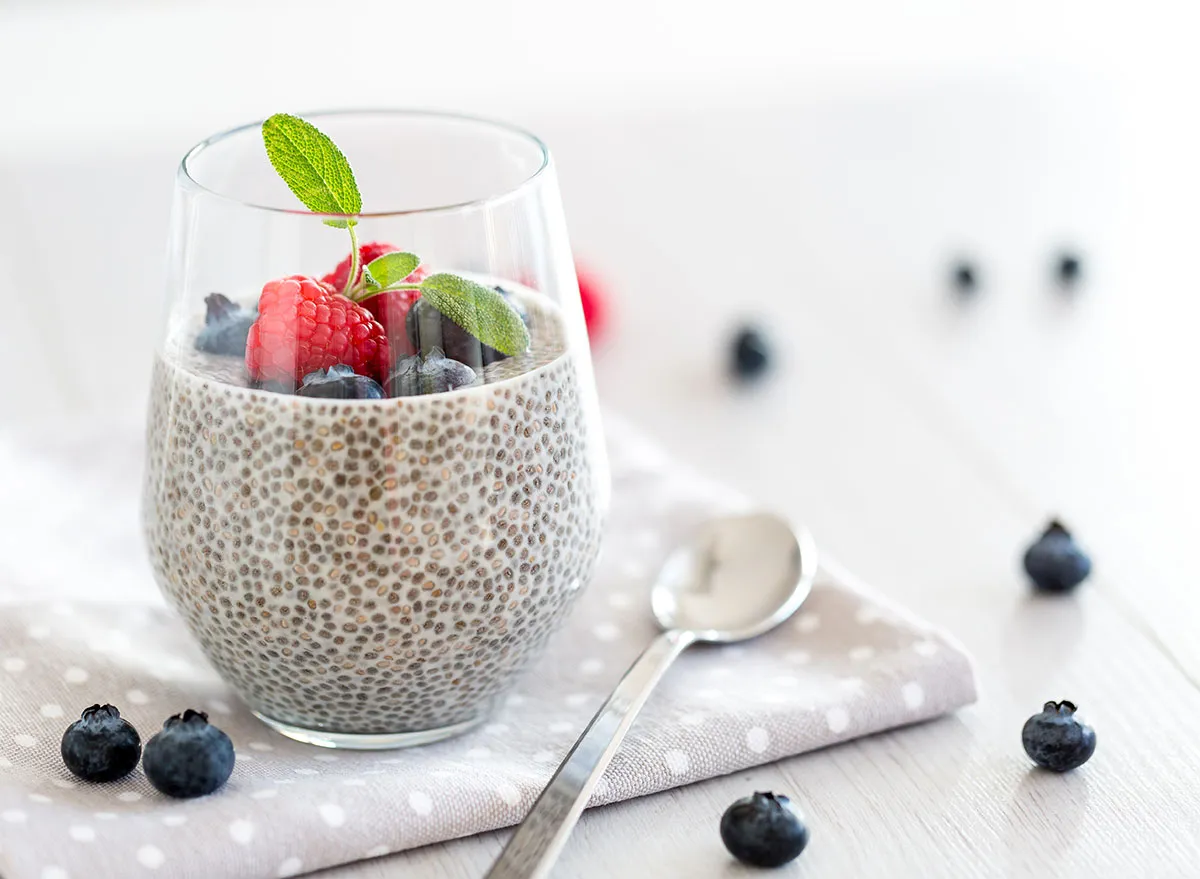 Make your own irresistible sweet with one of nature's best superfoods: chia seeds! Two tablespoons of chia seeds (1 ounce) contain about 140 calories, 4 grams of protein, 11 grams of fiber and 7 grams of unsaturated fat. In addition, they are the richest plant source omega-3 fatty acids and a good source of calcium. One of my favorites chia pudding recipes it is vegan and keto-friendly. Infuse turmeric and ginger which are known for their anti-inflammatory properties.
Don't miss it An important side effect of eating chia seeds!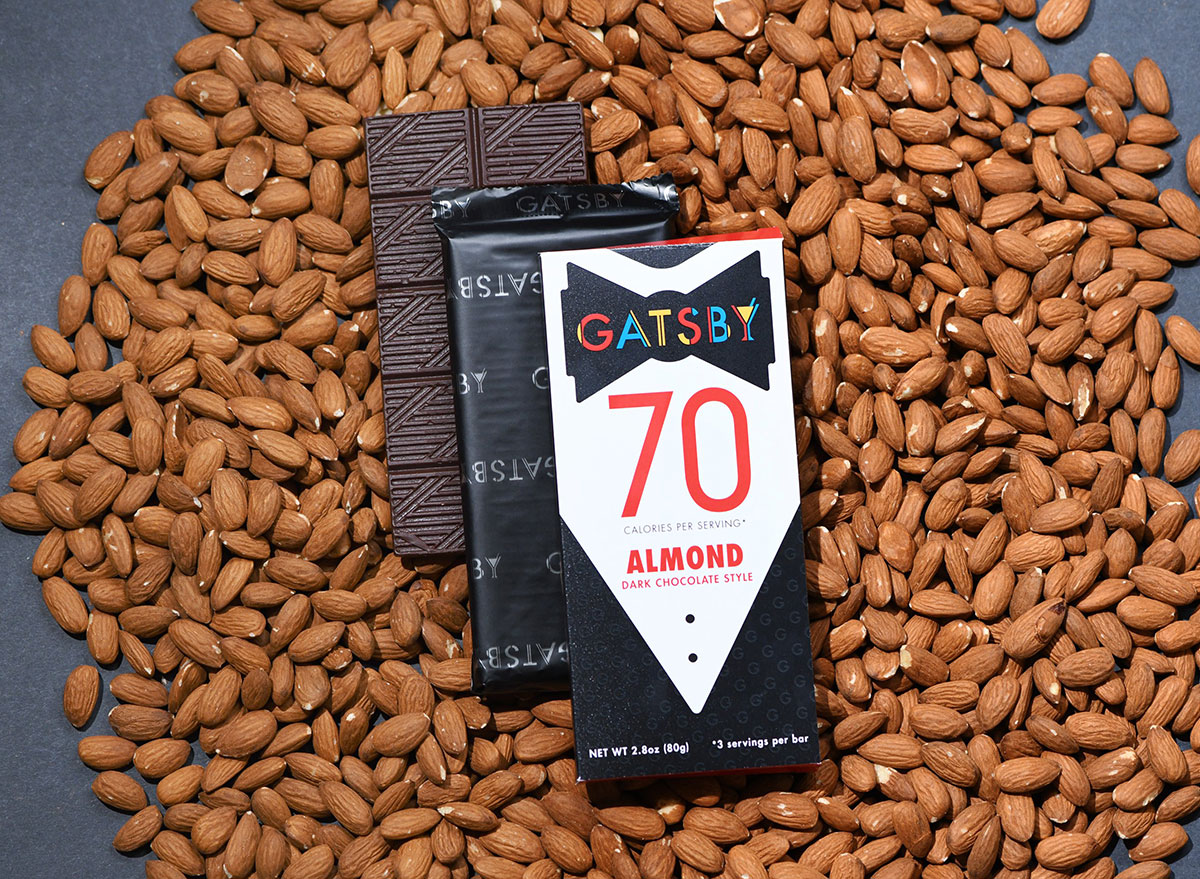 Nothing crushes a sweet desire like chocolate does. Gatsby dark almond chocolate it gives you all the amazing flavor and satisfaction of chocolate, with just 70 calories and 2 grams of sugar per serving. With a delicious, creamy flavor and texture, this is one of the first chocolate bars to combine both allulose (a sweetener) and keto-friendly. Oli MCT, resulting in a chocolate bar that reduces calories and sugar without compromising flavor. Gatsby also has a soft, creamy classic milk chocolate bar.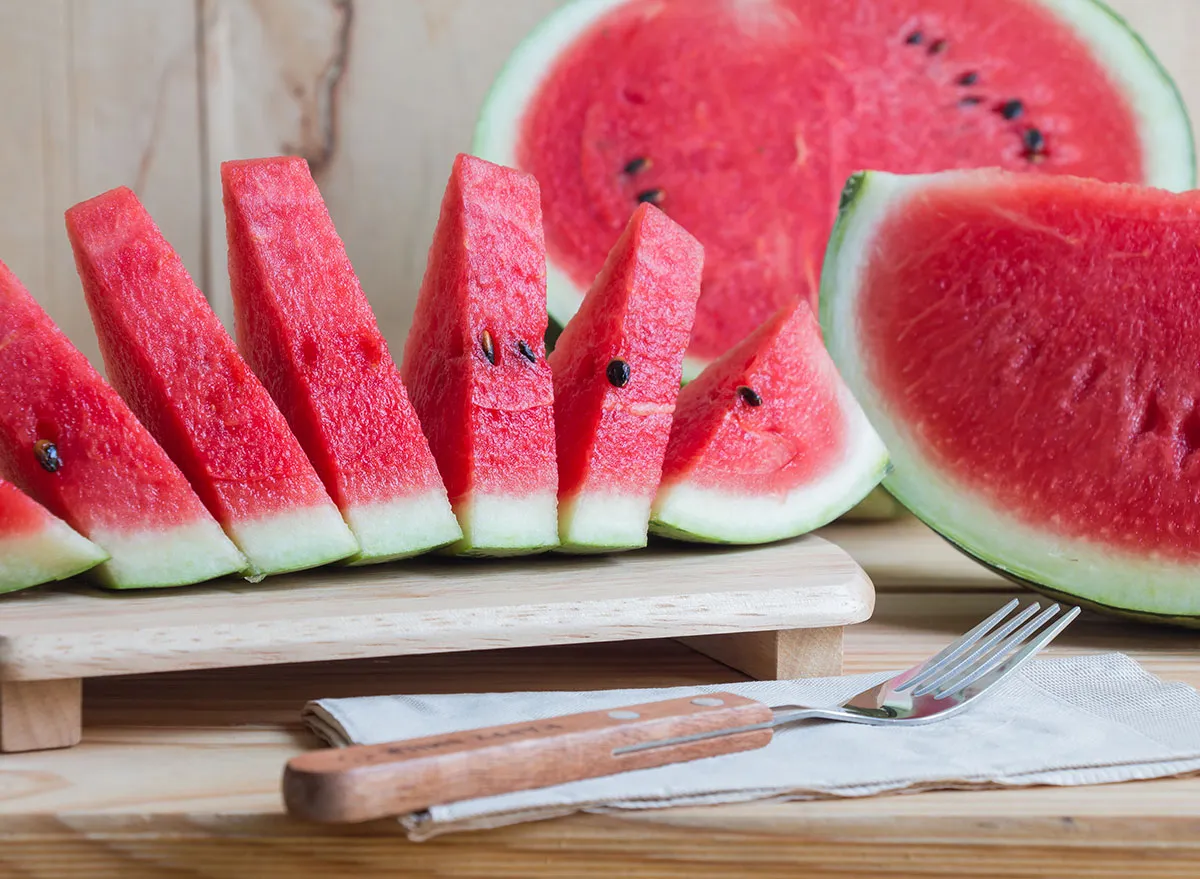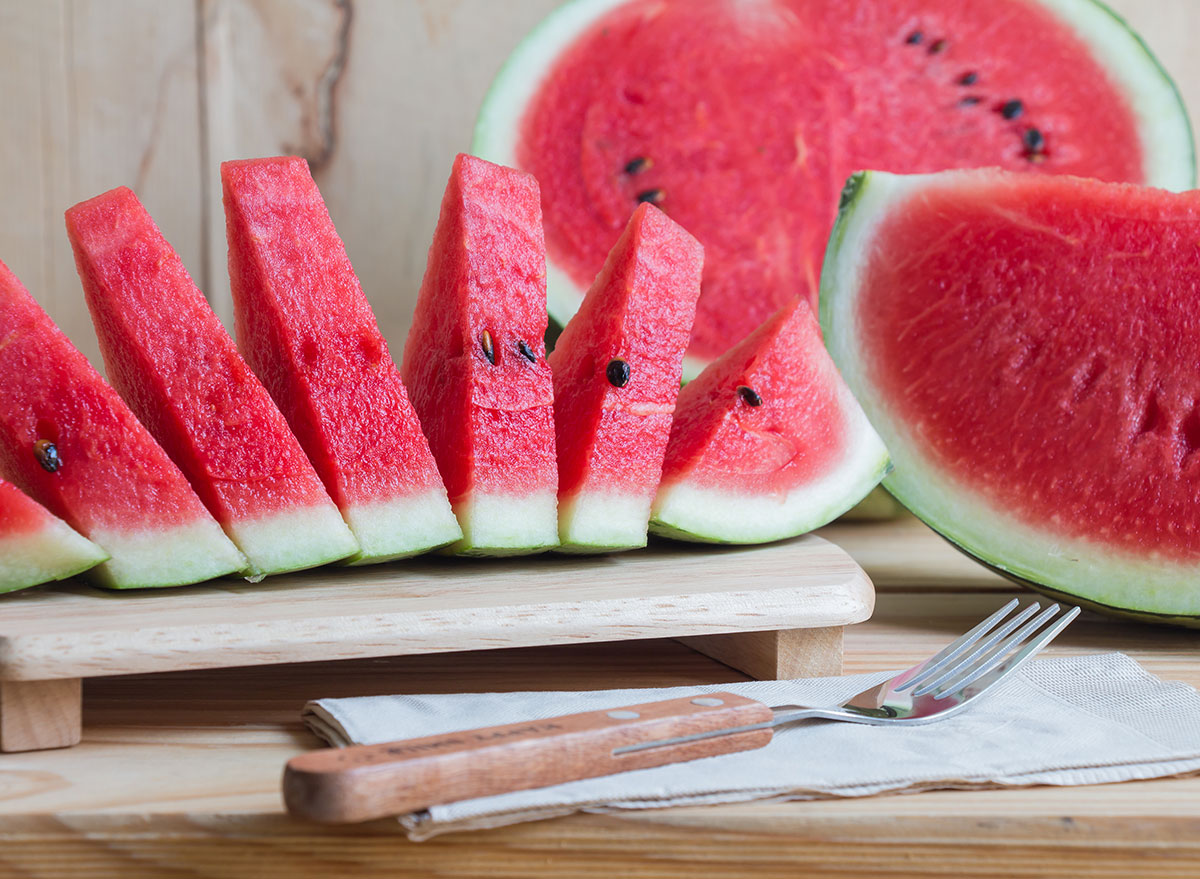 Let's be honest: the holiday season is filled with cookies, cakes and pastries. Dodge these dietary disasters and satisfy your sweet tooth by getting fresh fruit.
One of my favorite fruits to eat is watermelon. Available year-round, it's low in calories (about 45 calories per diced cup!) And high in water and nutrition content. And this sweet and delicious not only crushes the desires of sugary things, research shows that watermelon can also help control diabetes, reduce the risk of heart disease, and it helps you feel full for longer.
My other favorite fruits include pineapple, baked apples (with a little cinnamon) and fresh strawberries.
Now, be sure to read 7 Ways Apples Can Help You Lose Weight, Dietitians Say.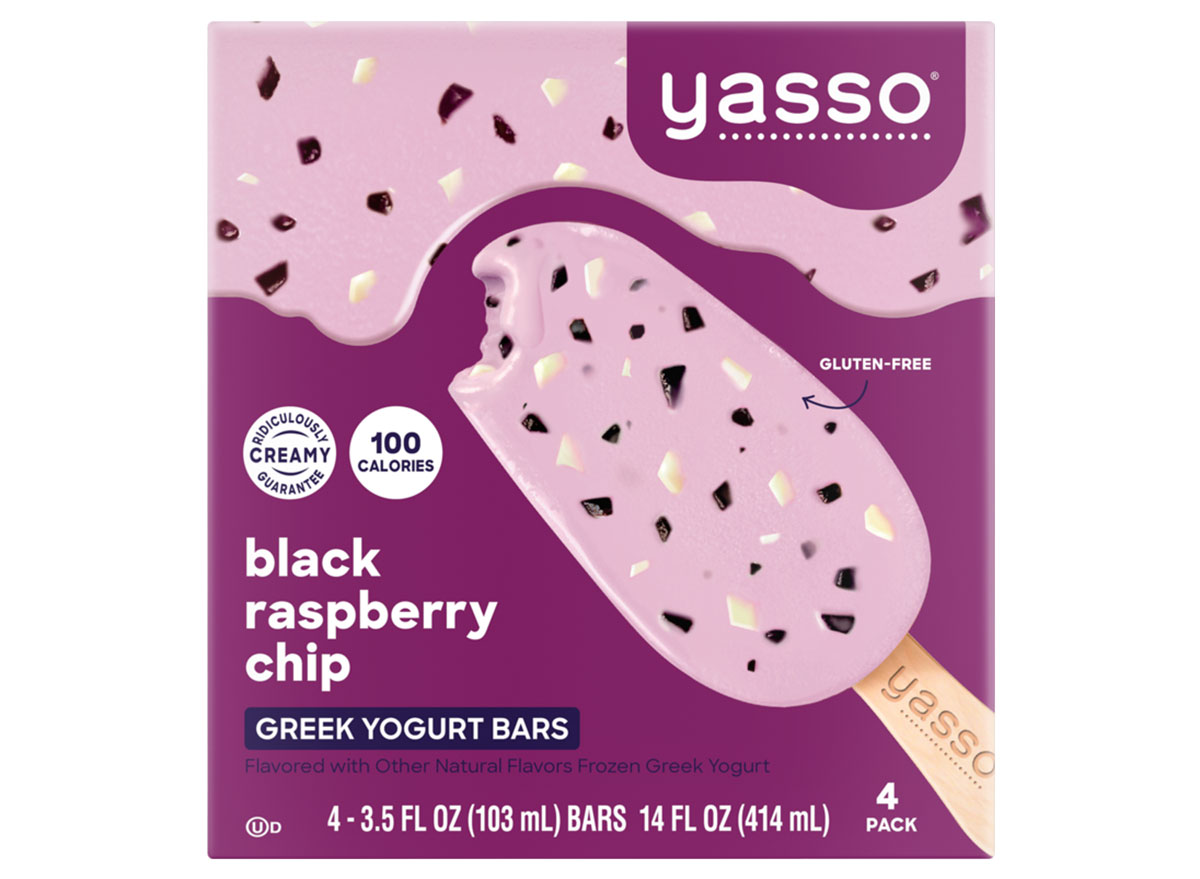 When you need to soothe your sweet cravings with something cold, don't go inside pint of ice cream! It's so hard to muster your willpower to stop eating one as you begin. A useful tip? Always look for individually wrapped portions.
I love Outshine without added sugar Pops made with real fruit juice. Each octopus has only 25 calories and 1 gram of sugar. Another favorite is Yasso Greek yogurt bars. Its chocolate flavor has no artificial sweeteners, 6 grams of protein and only 80 calories!
For more information, be sure to consult I'm RD, and that's all you want when you quit alcohol. Then don't forget subscribe to our newsletter!
https://www.eatthis.com/news-best-healthy-treats-that-crush-sweet-cravings/